A HALF Marathon (13.2 Mi.) and
The HALF/HALF Marathon (6.7 Mi.)
APRIL 7th, 2018
HALF Marathon Start: 8:30AM
HALF/HALF Start: 8:40AM
HALF Marathon Registration: $40 | $50 after March 10th | $60 race day
HALF/HALF Marathon Registration: $30 | $40 after March 10th | $50 race day
Race day registration: + $10 for either race

(ONLY from 7:00AM-8:15AM – don't be late!)

NEW FOR 2018: Altra Demo Day! Looking for shoes? Come try some out.
An Altra tech rep will be at the event this year with a fleet of Altra demo shoes for runners to demo.
Runner Check-in
All runners must check in prior to the start at Long Ranch Park race morning to receive their bib#.
– Runner check-in from 7:00AM-8:15AM
– Pre-race briefing starts at 8:20AM
– Half Marathon race start at 8:30AM
– HALF/HALF race starts at 8:40AM
UPDATE 4/3/18 – The snow is melting quickly on the half marathon course and shouldn't be a factor on race day. However, there are two other concerns. The first is that repairs are being done to Waterfall Road that leads up to aid station #2 this week and is scheduled to be complete by Friday. If not complete on schedule there will be a re-route that will increase the course distance from 13.5 miles to 14 miles. The other issue is the weather forecast. The lower section of Waterfall Road is owned by the City of Carson and is being repaired using FEMA allocated money. The upper section of road is owned by the Forest Service and remains washed out and is not part of this construction project. IF we get heavy rains Friday and race day we may also need to re-route the course because it will not be safe to get a vehicle up to the aid station. Again, this re-route will increase the course from 13.5 miles to 14 miles. Please be prepared mentally and logistically for this change. If a course re-route is necessary the second aid station will be moved to the Waterfall Trailhead at approximately mile 9.
Read more about THE COURSE, additional RACE DAY INFORMATION and AID STATIONS.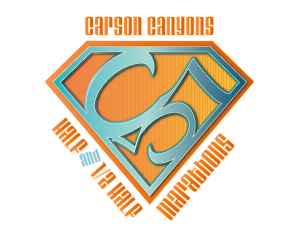 REGISTER TODAY
RESULTS on UltraSignup
THE VENUE
Long Ranch Park
Carson City, NV 89703
TAHOE TRIPLE TRAIL CHALLENGE
The Carson Canyons Half Marathon is the first of 3 races in a Half Marathon Trail Series. The other runs in the series include
Escape From Prison Hill
(EFPH) on April 21st in Carson City and the
Silver State Half Marathon
 on May 19th in Reno. Runners who complete all 3 races will receive a special finishers award.