Half Marathon Course Map
Half Marathon Elevation Profile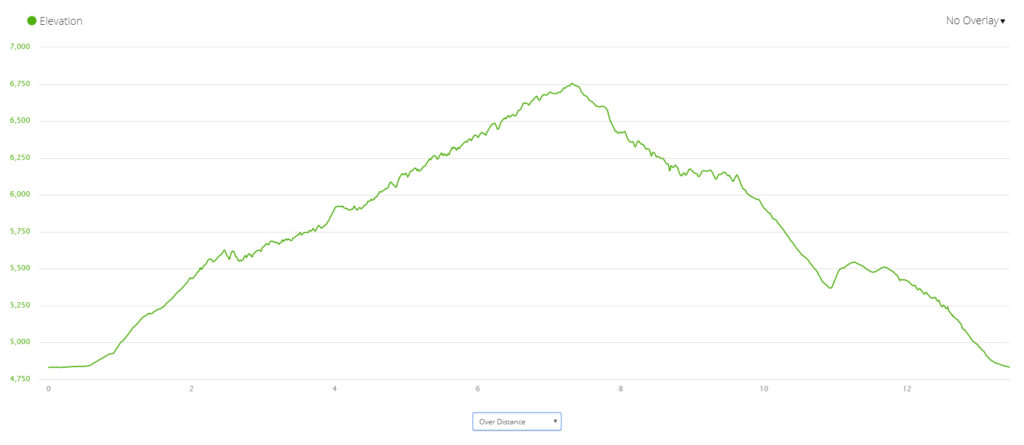 Click image to enlarge.
The Half Marathon start is located at Long Ranch Park in Carson City. From the park, runners will head north on Longview(paved road) for .57 miles before turning left onto Ash Canyon Road and begin their uphill climbing. Ash Canyon Road stays paved for approximately a half mile before turning to dirt when passing the water tanks.
At mile 2.5 runners hit the first of 2 aid stations before heading onto single track and crossing over Ash Creek. Once over this bridge, the course climbs up several switchbacks in and out of Ash Canyon before traversing across the face of the mountains overlooking Carson City. This section provides runners with spectacular views of Carson City and beyond.
After ~4.93 miles of steady climbing, runners reach the tree line and stay left heading south toward the Waterfall Road AS at mile 8. It is ~5.2 miles to the finish from this last AS. Runners cross the road back onto single track and immediately over another bridge. After crossing the bridge runners will enjoy 1.68 miles of single track before entering onto another dirt road. From there runners continue straight and downhill.
After approximately a half mile runners turn right through a green gate and onto another dirt road. This road descends quickly with a short but steep uphill climb before turning left onto the final single track trail leading towards the finish. Once back down to the housing development, runners will enter onto pavement, cross Kings Canyon Road and enter back onto Longview for a quarter mile to the finish line.
The Half/Half Race Start is located at Long Ranch Park in Carson City. From the park, runners head South on Longview (paved road) for a quarter mile before crossing W. Kings St. onto a dirt trail. The course continues east behind the development before merging onto a single track known as the "Z" trail.
After climbing the "Z" trail the course drops down onto a fire road heading southeast. After about a mile the course then merges back onto a single track that wraps around the south side of C-Hill and back onto a fire road that climbs to the saddle of C-Hills flag trail.
The course will again merge left onto another single track trail that ends back onto another fire road on the back side of C-Hill. After a half mile the course will make a hard right onto Longview Canyon trail(single track) and finish the same way as the half marathon course.